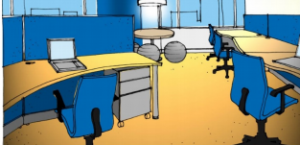 When can my Fitout Start?
This is a question that most clients ask me. After all, their main aim is to get into their new (or refitted space) as soon as they can, so they can start (or continue) working. The best way to answer this question is to outline the correct steps involved before a fitout provider can start.
Proper documentation for Pricing
A Fitout Specialist (just like a home builder) will need all of the information available on your project. This generally includes Working Drawings, Specifications, Work Scopes, Finishes and Material Schedules, etc. If all your Fitout Specialist only has is a rough layout sketch, then they (and their contractors) will have to make many assumptions about exactly you want and need, so their quote will
Having the necessary Approvals
Even if your Fitout Specialist has all of the necessary information and documentation, there are some Statutory Approvals (required by Law) that must be in place before any fitout work starts. This applies to projects over a certain value. The Law also states that certain works must be undertaken by Registered contractors, so you can't just get anyone to do the work.
Getting a Fixed Price Contract
As a client, you should obtain firm or fixed pricing for your fitout, otherwise you run the risk of costs blowing out if anything is left open ended. Pricing can usually take 1-2 weeks and can happen whilst you wait for the Statutory Approvals. Any fitout quote should also clearly identify what documentation it is based on, so that if any changes are made (or required) during the fitout, your Fitout Specialist can clearly identify the variations in cost (both up and down) and notify you for approval.
What about Cost Control?
If your Designer has done their job right, then they should have anticipated and documented all aspects of your fitout that will incur costs. Your Fitout Specialist should then ensure that they allow for any cost that your fitout might incur…..but note that there is always the danger of unknowns.
Design and Construct
Sometimes, Designers and Fitout Specialists can blame each other for oversights during a fitout. One option you might consider is to engage a Designer who is also able to carry out your fitout. These types of projects are known as D&C (design  and construct) projects. There are some design companies that are very experienced at both designing and building fitouts. One benefit of this option is that they will understand the fitout (and you, the client) much better than any new fitout company pricing your fitout from scratch. Another advantage is that you have already developed a trusting, working relationship with them during the design process.
A final thought….
Bear in mind that most Designers do not come from a construction background, so you should check to see how much they know about construction before engaging them for either your design or fitout.