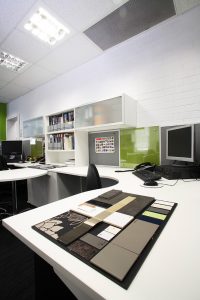 Thinking of doing an office fitout or office renovation in Perth? Where do you start?
All great office fitouts and renovations all start with practical and effective design! An office fitout or renovation is only as good as the design, so it's important to find an experienced designer that knows about office fitout and renovation and how to create a productive office space.
There are some key elements to good design. Firstly, it is about the designer understanding as much as they can about your business and how it currently operates. Aspects such as staff roles, what products or services you offer your clients and customers, how your office space acts as the interface between your business and your clients all impact on the design, and hence the final office or renovation fitout.
It is also important that your designer understands changes in your business that will impact on your office fitout or renovation. Good office design caters for your business moving forward, and offers your business as much flexibility as it can so that the fitout or renovation allows your business to use the space it occupies for as long as possible, as office moves can be disruptive and costly.
Office fitouts and renovations can have some complex external requirements, based on things like the shape and size of the office space, building management regulations, existing and new required services (such as fire sprinklers and air-conditioning) and statutory requirements set out in codes and standards or by council. This means that your office fitout designer needs to be familiar with all these requirements so that they can best advise you on your fitout or renovation design, and provide effective but compliant solutions.
It is not only imperative that your designer has the experience in preparing the necessary drawings and scopes for your new office fitout, but also that they are a good communicator and listener! Many office fitout and renovation projects fail to deliver the best results for businesses because of misunderstanding and miscommunication between the designer and the business they are trying to design for.
Part of the responsibility also falls to the office fitout company. Sometimes these are separate companies to the designers. Other times, the design company also carries out office fitouts and renovations.
This phase of the office fitout or renovation also brings with it considerations that your business needs to be aware of.
First and foremost, experience of the fitout or renovation company is important. Do they know and understand the Perth office fitout and renovation market? Have they been operating in Perth, and do they have proven and reliable Perth based contractors and suppliers? Even some Perth office fitout and renovation companies often utilise products that are supplied or made over east or overseas. Products from the eastern states can sometimes be delayed causing delays to your Perth office fitout or renovation. Products from overseas can sometimes be non-compliant with Australian Standards, or often do not carry warranties or provide local contacts in case of any problems.
Secondly, how financially stable is your chosen office fitout or renovation company? Have they been operating long, or are they a new company with little or no track record. Sometimes new or desperate office fitout and renovation companies will under-price fitout or renovation work to win the job, and try to make up their losses by charging unreasonably for extras, known as Variations. This is a common practice of some office renovation and fitout companies.
The best advice we can offer for any Perth office fitout or renovation is to use an office design and fitout company that has been working successfully in Perth for many years, has the experience and knowledge, and has strong communication skills.