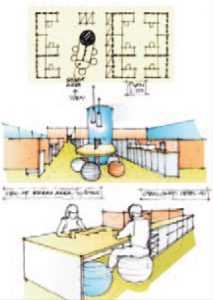 Whether or not to move offices is often one of the biggest questions facing a business owner. A structured assessment process can help determine whether it is worth refurbishing your existing offices, or relocating to new premises.
Refurbishing can save the considerable expense involved in an office move. Effective design often yields extra useable space, which was previously underutilised.
Design that offers flexibility is a key to gaining returns from your investment. If your current space is inflexible or too small, it will affect your business. New premises can act as a catalyst for improved company morale and increased efficiency and productivity. With commercial leases generally running at five years, and market factors sometimes outside of your control, it can be difficult to plan space for the next three to five years or longer.
Human Resources usually accounts for around 30 per cent of turnover, so optimising HR needs within your office environment also impacts significantly on your business. The spaces people occupy must provide for the demands of the business as well as the needs of the people who work there and your clients.
Workspace design and fit-out costs should be viewed as a business opportunity. A wellplanned and executed fit-out will adapt to your organisations growth and changing needs. The balance between the costs and returns is critical, and needs to be understood.
When should I start?
Business continuity is a key factor in terms of when you start. A thorough investigation and feasibility study should be carried out before you even consider leasing new premises. A cost versus benefit analysis may point clearly to refurbishing your existing premises. Alternatively, it may provide conclusive evidence that you should move.
Either way, your decision should be based on having all the facts, not just on a 'gut-feeling'. Starting earlier rather than later means more time to analyse and make informed decisions and may save you a lot of money.
Whom should I involve?
Your senior staff, decision makers, and other' stakeholders' should have the opportunity to provide input. A properly conducted survey of staff can reveal their needs, workstyles, and preferences, as well as beneficial information about your business that you did not know as the owner.
A qualified and experienced interior design and fit-out company can provide the valuable interface between your organisation, its people and its clients through the use of effective design and fit-out solutions.
Call NRG FORCE today for the right solution to your space planning. We specialise in corporate, medical, retail and hospitality interior design and fit-outs.