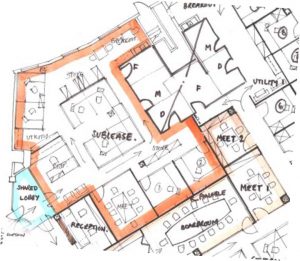 The Boom
Over the last few years, many businesses have experienced increased sales and improved margins. This has (potentially) led to increased profits.
However, with increased business activity there often comes an increase in costs. One of the main costs for a business is the cost of its people. The other main single cost can often be premises from which to run your business.
So where's the problem then?
With office space at a premium and rents at an all time high (and still increasing), many business owners may now find themselves in a situation where they are literally 'sitting' on an income producing asset.
Your business may have entered into a lease years ago, when rents were lower. Many businesses like yours may also not realise it, but they are not using their space effectively (particularly if they have become complacent in the current boom market).
Other businesses which have experienced growth, may have done so without carefully planning their accommodation, and so again are not maximising the return on their space.
Then how do I save or make money instead of spending more?
Easy! By rationalising your office space.
With clever and practical design, it may be possible to gain or free up excess space from your current tenancy. This means that you have lettable area – a rare asset in today's hot office market.
Many businesses are surprised at how much wasted space they actually have, when properly assessed!
At the same time, NRG FORCE can show you how to improve efficiency and productivity within your business through better design.
With demand for office space so high, you might find that it is worth your while re-configuring part of your office to capitalise on your asset, whilst improving the performance of your business at the same time.
This all adds up to increased profitability.
So what should I do next?
The smart thing to do is assess your current and likely future space needs properly. Unfortunately, doing this is not as simple as it appears. There are many factors to consider when evaluating office space.
Experience in this type of exercise is vital. There is no room for error once you have sublet space to another tenant, particularly for an extended period of time, such as 3 to 5 years.
Contact NRG FORCE to discuss how we can accurately analyse your situation, and provide you sensible options. We specialise in Corporate, Medical, Retail and Hospitality interior design and fitout.